Luxe living for the whole family.
In a quiet North Shore suburb known for historic, colonial housing, it's surprising to come across an example of contemporary architecture juxtaposed elegantly into the neighborhood as it offers a refreshing balance of beauty, technology and purpose.
Every opportunity was taken to enhance the form and function of this home while adhering to contemporary design principles. The expansive walls of glass, the integration of interior and exterior spaces, the celebration of materials and the illumination of architectural features combine to create a home that excites the senses and comforts the soul.
The owners were looking for a long-term strategy; build a solid technology infrastructure that will accommodate their needs well into the future. The basis of this plan revolves around the joy of entertaining family and friends while managing the challenges that a large home entails. Whether it's an intimate gathering for movie night, hosting a pool party for 200 guests or lighting the pathway to the front door, all had to be user friendly.
Architecture by Adolfo Perez Architect
Construction by Thoughtforms Corporation
Interior Design by Meichi Peng Design Studio
Photography by John Horner
Lighting Control, Home Automation and Media Distribution by Cutting Edge Systems
Project Details
Lutron Homeworks QS Lighting system controlling well over 300 lighting loads, mainly LED, plus comprehensive motorized shading throughout.
Crestron Distributed Video system with over 20 viewing locations. Individualized profiles for each family member to manage their own recordings.
One of a kind, customized Crestron control system with whole house control from any device.
Whole house music system with 6 individual profiles.
High end audio systems throughout the property.
Full outdoor audio system to cover the entire, landscaped grounds.
Rooftop entertainment center.
Enterprise computer network.
HVAC control.
Security camera distribution and alarm integration.
Electronic entry system and wine locker control.
"Hidden" theater in living room with drop down screen and motorized lift for 20,000 lumen, Digital Projection, Super Titan projector.
JBL Synthesis Audio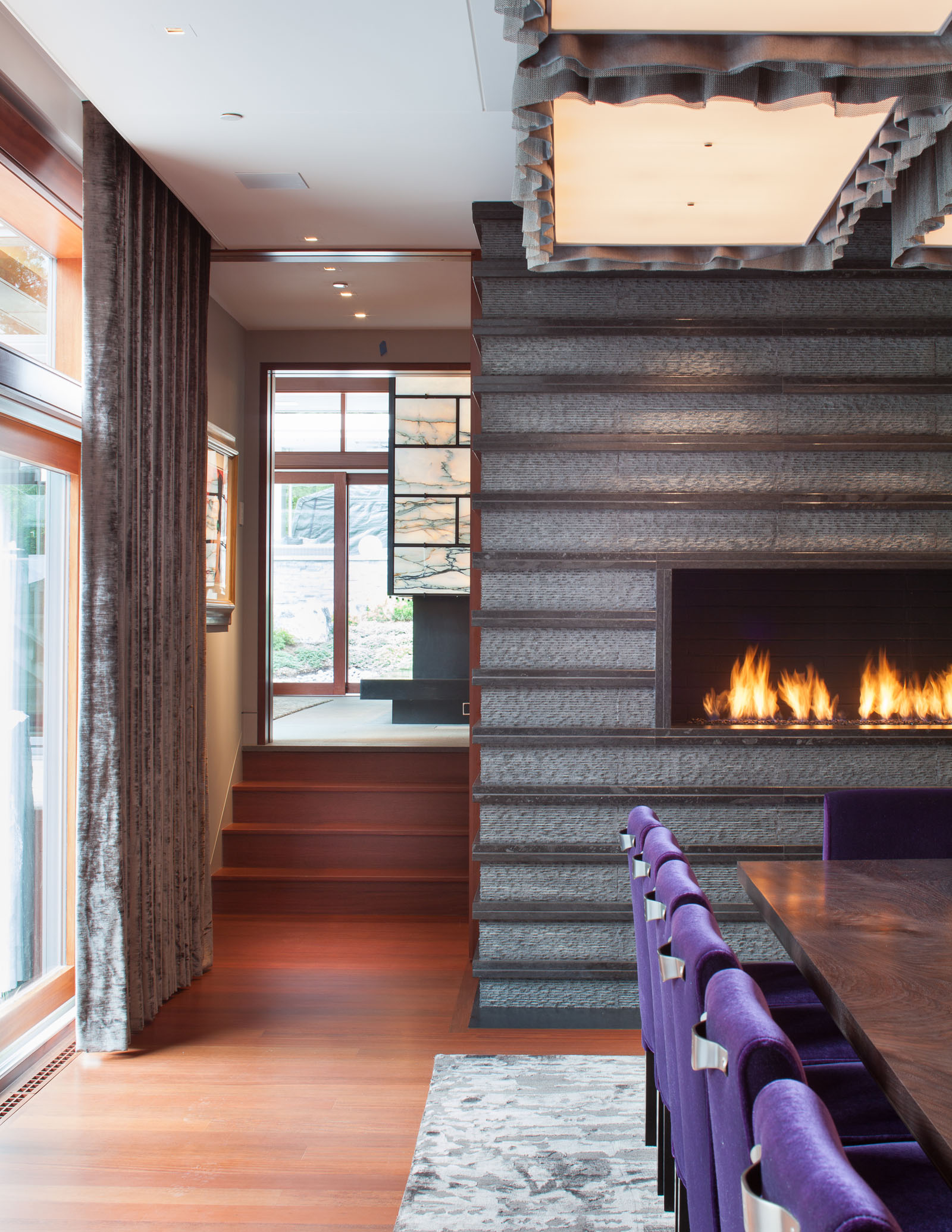 Lutron Homeworks QS was selected to provide the perfect balance of sophistication and simplicity for coordination of all the lighting and shading components. Several areas throughout the home are enhanced with the creative use of light. The nighttime pool area delights swimmers and observers with colored spots on water features. LED fixtures with low voltage dimming interfaces are designated to conserve energy as interesting structural details, such as ceiling coves and shelving recesses, are highlighted. Low UV emitting fixtures are an ideal choice for showcasing the owner's collection of fine artwork, providing just the right amount of light.

With such a large number of controlled devices, including audio, video and HVAC, a Crestron automation system is seamlessly integrated. The use of multi-button keypads and touchscreens as main control points allow easy management of a very sophisticated setup. Similarly, motorized shading and draperies work well to simplify operation. The user can focus on attaining the right environment, lighting level and background music without fussing over individual controls.

When it's movie night, there are three areas in the house that magically transform into full, front projection theaters with motorized Stewart film screens. The screens were custom equipped in the factory with Lutron motors to provide precision control and silent operation. When the movie is over, everything goes back up into the ceiling and the lights come on gently, transitioning the room back to normal. The AV and control systems integrate with full, two-way communication between them.
With the right balance of automation, aesthetics and ease of use, our client could not be more delighted with the outcome.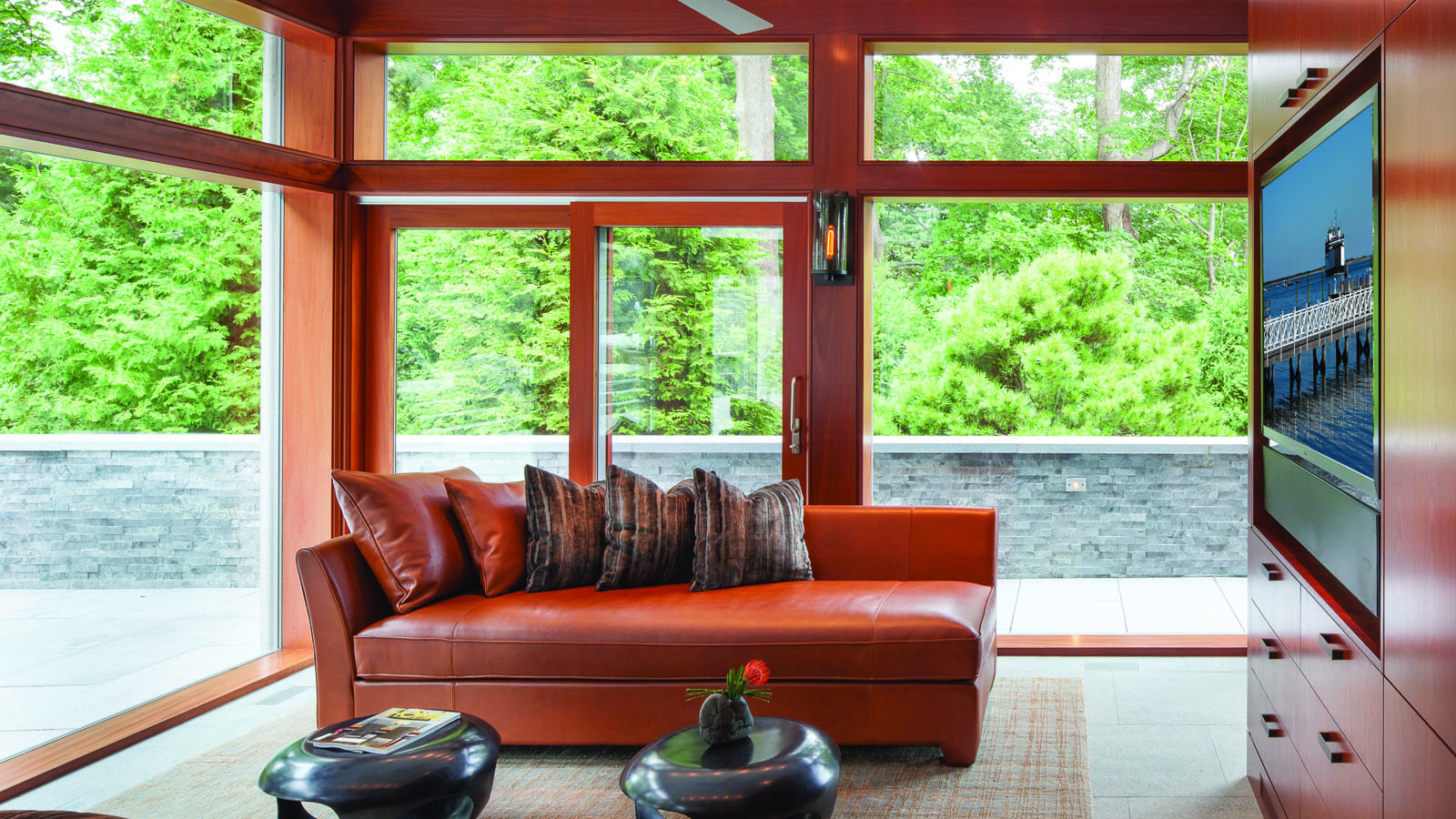 You deserve the Luxe treatment today!
Cutting Edge Systems works on systems ranging from a single TV to a fully automated home.
Call us today! (978) 392-1392
It is a pleasure to work with Cutting Edge Systems.
"They know how to work as part of the design team and how to work with me to translate the complexities of a whole house and media control system to the client. "
— A.P., Newton, MA
This is the company you are looking for!
"This is the company you are looking for if you want an A+ design, installation and service of your household control/media system. They were very good at helping me decide what control and media features I wanted to have in my house, and they were very knowledgeable about the latest and best hardware available to provide those features. "
— M.S., Lexington, MA
I was very pleased.
"I have been a customer of Cutting Edge Systems for over 12 years. I decided to have them upgrade my system because their service has been excellent. I was very pleased. They upgraded the system and delivered as promised. "
— R.M., Sudbury, MA